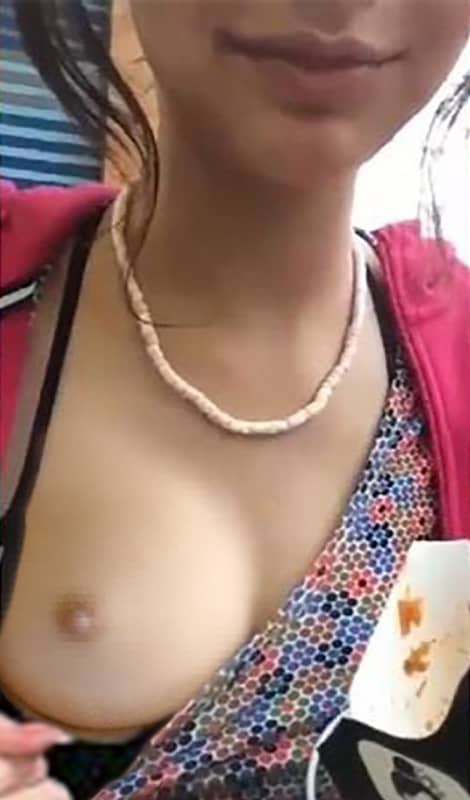 Woman Flashes Breast On Google Maps – Uncensored
A CHEEKY tourist has reportedly added a racy video of her bare breast to a remote road on Google Maps, sending locals into a fluster – and racking up hundreds of five-star reviews for the spot.
The 15-second clip showed the female flasher smiling as she exposed her breast. Google Maps users claim the flasher has also uploaded similar clips on YouTube.
The naughty clip shows her checking over her shoulder before pulling down the neckline of her pink top to expose her breast, while cheekily smiling at the camera.
She supposedly uploaded the video to a quiet route along Pingtung County, Taiwan, and it immediately stood out from the other mundane images of farmland and farming equipment.
Local residents who'd peeped the viral footage joked they were driving to the village "straight away".
One said: "I've never thought about going there but now I want to. It definitely seems like a lively area."
The quaint country road is now witnessing a spike in five-star reviews, with another user commenting: "This is a great place! I'm not afraid to make a special trip! This is the glory of being an experienced driver."
Screenshots of the 18-second clip are also being shared on Facebook groups in the country.
It's unclear who the woman at the centre of #boobgate is, though local media are referring to her as "western".
Some sleuths claimed to have also dug up more videos by the mysterious flasher on her YouTube account – but we've been unable to track down her page.
The fact that she posted a video to Google Maps indicates that she may be a Local Guide.
That's the term reserved for users who regularly contribute reviews and photos to the the GPS service.
With each contribution, they earn points that can be swapped for real-life perks including extra online data storage and early access to Google features.
And last September, Google gave Local Guides the ability to add videos to Maps as well.
But that's not to say you can post nude clips to the platform.
Google Maps' terms of usage states that it doesn't permit pornographic, explicit or sexually suggestive content.
However, it's up to users to report the objectionable posts, which Google promises to then swiftly remove.
And it seems the company has done just that in this instance, as the video is no longer appearing on that stretch of road.
The firm told Apple Daily it is investigating just how the clip was successfully smuggled on to Maps, and is working on strengthening the system's automatic detection mechanism.
We've reached out to Google for extra clarification and will update this article with its response.