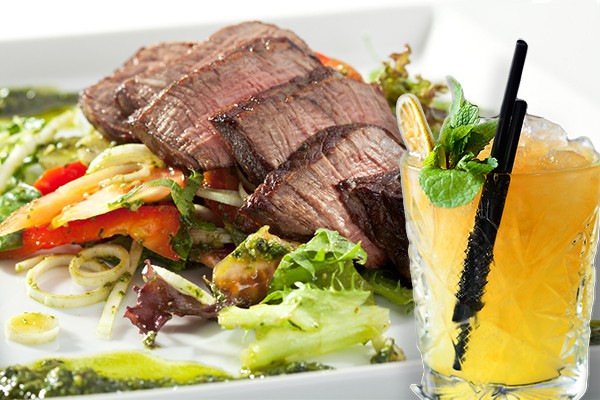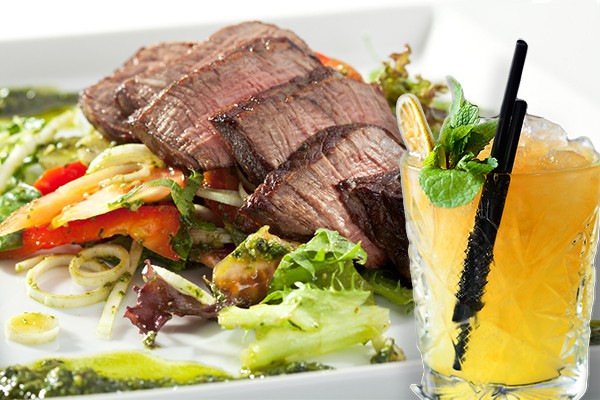 Cooking Steps
– Prepare steak salad – 20 minutes
– Prepare spritzers; serve – 10 minutes
Cooking Instructions
Grilled Steak and Vegetable Salad
Ingredients
1 medium zucchini
6 oz fresh sliced portabellas
3 plum tomatoes, halved
1 1/2 lb grilling steaks (ribeye, strip, or tenderloin)
1 teaspoon kosher salt, divided
1/2 teaspoon pepper
2 tablespoons olive oil
1 bag arugula salad greens (4-5 oz)
8 teaspoons white balsamic glaze, divided
4 tablespoons Caesar salad dressing, divided
Prep
– Preheat grill (or grill pan).
– Cut zucchini in half lengthwise.
– Discard stems and gills (dark brown layers) from mushrooms.
– Halve tomatoes.
Steps
1. Season steaks with 1/2 teaspoon salt and pepper. Place steaks on grill (or in grill pan); grill 3-4 minutes on each side or until steak is 145°F. Remove steaks from grill; let stand 5 minutes before slicing.
2. Combine zucchini, tomatoes, portabellas, oil, and remaining 1/2 teaspoon salt. Place vegetables on grill; grill 2-3 minutes on each side or until tender and grill marks begin to show.
3. Remove vegetables from grill; cut into bite-size pieces. Slice steaks.
4. Divide salad greens onto 4 serving plates; top with vegetables and steak. Drizzle each salad with balsamic glaze and salad dressing. Serve.
Mango Ice Spritzers
Ingredients
1 large mango
4 teaspoons fresh mint leaves, finely chopped (optional)
2 (6-oz) cups frozen Rita's Mango Italian ice, divided
4 cups ginger ale (or sparkling cider)
Prep
– Peel mango; cut mango into 1/2-inch pieces.
– Chop mint.
Steps
1. Divide Rita's Mango Italian Ice into four serving glasses; top with mango.
2. Pour ginger ale over mango. Sprinkle with mint and serve.
Rita's Advice
– Complete your meal with fruit salad, garlic bread, and Key lime pie for dessert.
– Make your own signature spritzer by changing the fruit and flavor of your Rita's Italian Ice.